Responsible Recreation Resources
Southern Utah is a haven for outdoor enthusiasts with a variety of terrain, sweeping red rock landscapes, stunning public lands, intricate trail systems, and pristine lakes/reservoirs. It's important to remember that we have a role to play in preserving the beauty of these natural spaces through Responsible Recreation while visiting. 
Make your southern Utah visit as responsible as it is memorable using the recreation resources included below. 
Plan Ahead
Before you set off on your adventure, make sure you're well-prepared. Whether you're going on a day hike in Zion National Park or camping under the stars in Cedar Breaks National Monument or Dixie National Forest, knowing what you're getting into is key to being responsible. 
Maps and Apps: Make sure you have up-to-date maps and navigation apps. Offline maps are particularly useful as cell reception can be spotty. 

Permits and Passes: Make sure you are prepared with a National Park Pass or are able to purchase a day-use pass for nearby national parks and monuments. If you plan on hiking Angel's Landing or Kanarra Falls while here, both trails require permits secured in advance. 

Weather Forecast: Be prepared for changing weather conditions. Southern Utah is known for its sudden storms and temperature shifts. 
Resources: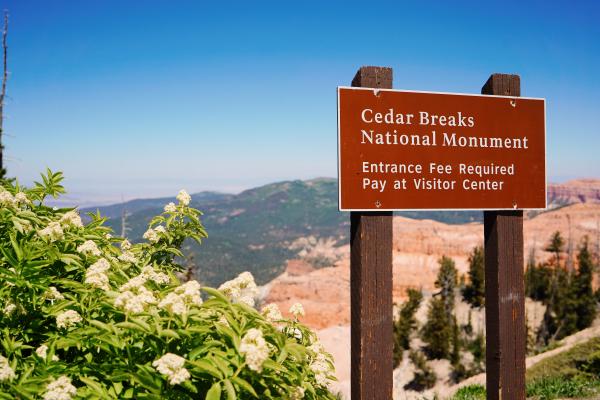 Camp Responsibly
Camping is one of the best ways to connect with nature, but it's essential to camp responsibly to minimize your impact on the area. 
Designated Campsites: Always use designated campsites or previously used camping areas. In dispersed camping areas keep your impact minimal. Do not create permanent structures or clear native vegetation. 

Fire Safety: Be aware of fire restrictions and always follow safe fire practices
Resources: 
Leave No Trace
It can be tempting to venture off the well-trodden path, but sticking to marked trails helps to reduce erosion and protect fragile ecosystems. This goes for OHV and ATV use as well as hiking, equestrian, and mountain biking. 
LNT (Leave No Trace) Principles: Familiarize yourself with the Seven Principles of Leave No Trace, which provide guidance for enjoying the outdoors responsibly. 

Trail Updates: Always check for trail conditions and closures before setting out. 

OHV Permit: Owners of any off-highway vehicles, off-highway motorcycles, or snowmobiles brought into Utah must obtain a non-resident permit for their machine in order to operate on public land.  
Resources: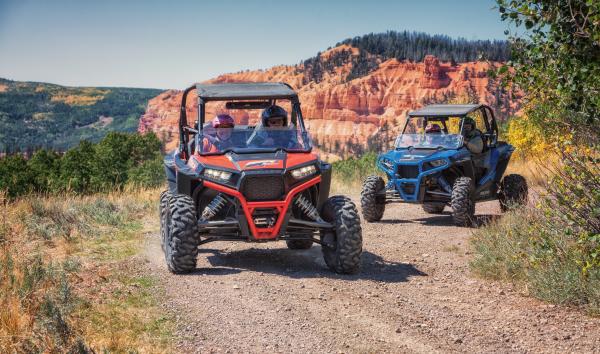 Wildlife Encounters
The fauna of southern Utah is as impressive as its flora. However, it's important to maintain a safe and respectful distance from wildlife. 
Observe Only: Use binoculars or a telephoto lens for close-up view

Do Not Feed: Feeding wildlife can alter their natural behaviors and expose them to predators or traffic. 
Resources: 
Additional Resources
Exploring Southern Utah is a once-in-a-lifetime experience for many. By being mindful and utilizing responsible recreation resources, you can ensure that it remains unspoiled for future generations to enjoy. 
So plan ahead, stay on the trails, and leave no trace.