Immerse yourself in a world of wonder as the area surrounding Cedar City puts on a dazzling show; dressed in their fall finest. With the fall colors showing off and the hiking trails waiting, there's plenty to see and do in the wide-open spaces of southern Utah. Enjoy the comforts of the city before taking one of our
Scenic Byways
to view the fall foliage at Cedar Breaks National Monument, drive OHV trails near
Brian Head Resort
or fly down mountain bike trails. Where will you start? 
Here are our top 14 ways to kick the season off in style 🍂
1. Add some spice to your morning

 

Stop by

Bristlecone Coffee Company

on Center Street in Cedar City for the perfect start to your morning. A kick of caffeine, a hint of pumpkin spice, apple, or nutmeg, all while supporting local! You'll find vegan options, protein-packed snacks, incredible teas, and a friendly staff that's eager to greet you.

    [caption id="attachment_6119" align="aligncenter" width="1024"]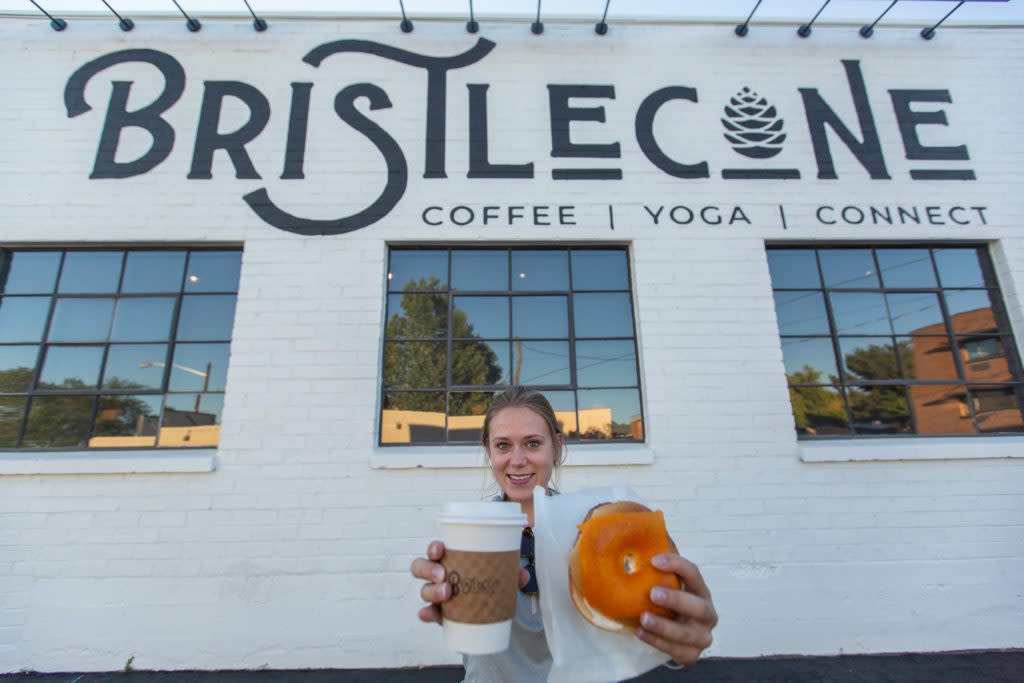 Breakfast at Bristlecone Coffe Company. Image by Tobey Schmidt.[/caption]    
2. Hike the Twisted Forest Trail 
This one-mile trail may not sound like one of the books, but the views of Cedar Breaks National Monument and Dixie National Forest might change your mind. Let alone the stand of ancient Bristlecone Pines that wait at the end of the trail! This trail is pet friendly, and the trailhead can be found in Brian Head.
*Trailhead is on Summit Mountain Road, keep to the High Mountian Rd side.
3. Step Back in Time at the Frontier Homestead  
There's nothing cozier than a fall afternoon in a historic wood cabin. The
Frontier Homestead State Park
interprets the history of Southern Utah through hands-on exhibits. Visitors can pan for gold, play horseshoes, and tour authentic pioneer homes. 
4. Experience Fall at Cedar Breaks National Monument 

 

Enjoy the fall colors along Highway 148 as you make your way to the stunning red rock amphitheater of Cedar Breaks National Monument. Once there you'll find

several trails that offer unique and beautiful fall views

, all worth taking. Hike along the rim of Cedar Breaks to a stand of ancient Bristlecone Pines along the Spectra Point/Ramparts trail. Wind through stands of brightly colored aspens as you make your way to the Sunset Overlook 

    [caption id="attachment_4904" align="aligncenter" width="1024"]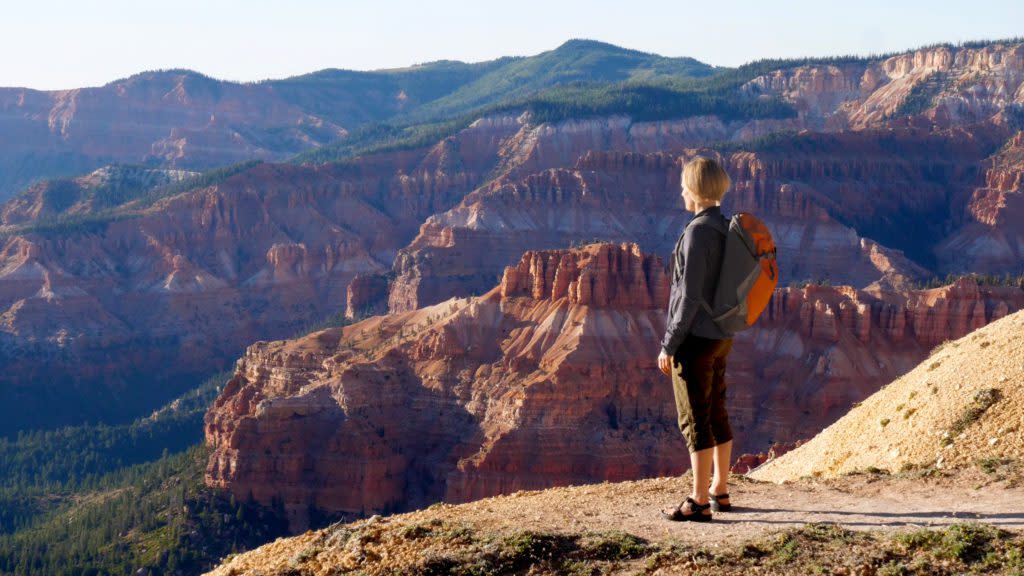 Cedar Breaks National Monument, Spectra Point Trail. Image by Visit Cedar City · Brian Head.[/caption]    
5. Rent a Bike and take the Lichen It Trail
With so much to do it's hard to pack for every outdoor adventure. With
local bike rental
options that are affordable and convenient, it's easy to take advantage of the miles and miles of mountain bike trails in Cedar City that are minutes away. No need for a long drive, the
Iron Hills Trail System
features popular flow trails and sweeping views of Cedar City that you won't find anywhere else. 
6. Visit Silver Silo Bakery for a taste of Fall  
Homemade soup, incredible baked goods, and more! The
Silver Silo
is an ideal lunch spot for a taste of fall. This new addition to Cedar City will have you feeling harvest-ready with their farm-themed decor and freshly baked goods.  
7. Take a Scenic Fall Drive Along Highway 143

Beginning in Parowan, the

Fall Color Loop

will follow Highway 143 through Parowan Canyon to Brian Head Resort. A few miles after the resort, take Highway 143 east towards Panguitch. Known as the Patchwork Parkway, Highway 143 is like the blocks of a quilt; weaving through an astounding patchwork of historic towns, geological formations, and recreational opportunities that appeal to all – from sightseers and leaf peepers to high adventure fanatics.

    [caption id="attachment_6120" align="aligncenter" width="1024"]
Fall views along Mammoth Creek Road. Image by Visit Cedar City · Brian Head.[/caption]    
8. Enjoy a drink in front of a warm fire
Enjoy a glass from Southern Utah's premier winery,
IG Winery
. Join them in Historic Downtown for a sampling of handcrafted wines or a tour of the wine production area. Sit down before the fireplace in the tasting room with a glass of your favorite red or white; guaranteed to pair perfectly with the fall evening.
9. Harvest Time on the Farm
Cedar City has a past rooted in agriculture and family-owned farms. That spirit remains alive and thriving through farmer's markets and many family-owned/operated farms. These farms offer tours, classes, pop-up cafes, adorable animals, and more! Plan your visit around upcoming events, schedule a tour of your own, or stop by the farm store for fresh goods. 
Learn more about visiting these farms here
. Visit the Downtown Year-Round Farmers Market (59 W Center Street)  or the Saturday Market (905 S Main) to find freshly baked goods and
locally grown produce. 
10. Find Beautiful Pockets of Fall Color in Zion National Park

 

As fall moves forward and the leaves at high elevations are past their color peak, the fall foliage in the north side of Zion National Park,

Kolob Canyon

, is still putting on a show. Along the five-mile scenic drive, visitors can see vibrant fall colors standing out against towering red rock formations. For an up-close-and-personal view of the colors take a hike along the Taylor Creek Trail.

    [caption id="attachment_6100" align="aligncenter" width="1024"]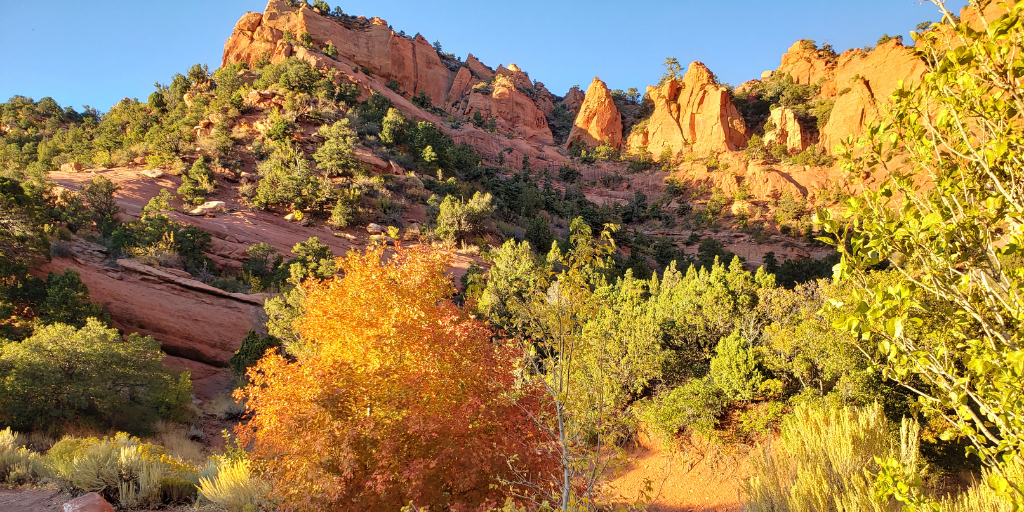 Fall color in Kolob Canyons, north Zion National Park. Image by Visit Cedar City · Brian Head.[/caption]      
11. Try New Flavors and Relax at Policy Kings Brewery 
Every vacation needs to include a little time to sit back and relax! So sit down, play a game, and have a drink or two of one-of-a-kind fall flavors from Cedar City's first nano-brewery,
Policy Kings
. With new flavors on tap, $3 Mimosas on Sundays, and friendly staff, it's easy to see why this is a popular stop among locals.  
12. Visit A Pumpkin Patch 
Nothing says "fall" quite like a visit to a pumpkin patch! The
Judd Pumpkin Patch
starts October 1st and is open Monday - Saturday from 9 am to 7 pm in Paragonah, just north of Cedar City. Visitors can also find the
Robinson Family Pumpkin Patch
(1450 W Industrial Rd) and straw maze September 28th - October 30th and the pumpkin patch at the Fiddlers Fun Center in Cedar City. These events are a great place to pick the perfect pumpkin, visit animals in the petting zoo, traverse the straw maze, or play in the sand pile. 
13. Take an OHV Tour through Brian Head, UT 
With miles of OHV trails and incredible views surrounding the mountain town of Brian Head, there's no better way to take in the fall scenery!
Book your OHV rentals
and head to the red rock views of High Mountain, find 'the bus' hiding in a grove of brilliantly colored aspens, and take in the sites along the way. 
14. Watch the Sheep Parade in October 

Here come the sheep! How often is it that you get a chance to watch 500 sheep strut their stuff through the center of a town? If you live in (or visit) Cedar City the answer is, once a year. Tranquil downtown gets a little wild and wooly the last weekend of October for the annual

Cedar Livestock and Heritage Festival

. The event takes place Saturday, October 24th at 10 am and is followed by a tractor pull, vendors, games, and more at the Diamond Z Arena.

    [caption id="attachment_5658" align="aligncenter" width="1024"]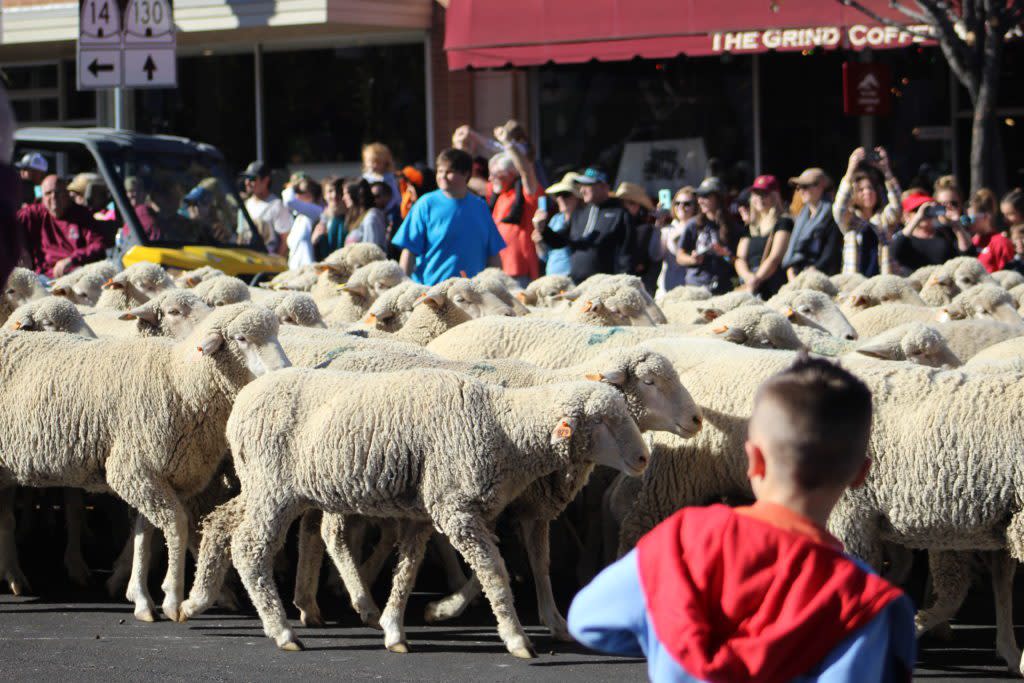 Watching the sheep parade on Main Street in Cedar City. Image by Visit Cedar City · Brian Head.[/caption]