There's nothing quite like winter in the desert. Crimson rock formations dusted with snow, adventure at high elevations, and the right mixture of fun and relaxation are just waiting to be discovered with a visit to Cedar City and Brian Head. Discover new and exciting views on a snowshoe hike into Cedar Breaks National Monument. Grab a drink and explore Historic Downtown Cedar City, and ignite your creative spark at the Southern Utah Museum of Art. 

Explore the list below to start planning your winter getaway. 
1. Snowshoe Hike Into Cedar Breaks National Monument
With incredible high-elevation views, hitting the trails around Brian Head and Cedar Breaks is a must! 
Whether you have your own gear or need to rent some from local guides, these trails are a great way to take in the wonder of southern Utah. You can choose a trail that keeps you closer to town from the Brian Head Town Trails map or embark on a little high adventure through Dixie National Forest. While the road through Cedar Breaks National Monument (Hwy 148) is closed in winter, parking for the snowshoe hiking trails is available at the North Overlook. 
During winter months guided snowshoe hikes are available thanks to Cedar Breaks rangers. Learn more, reserve your spot, and plan ahead using the link included here.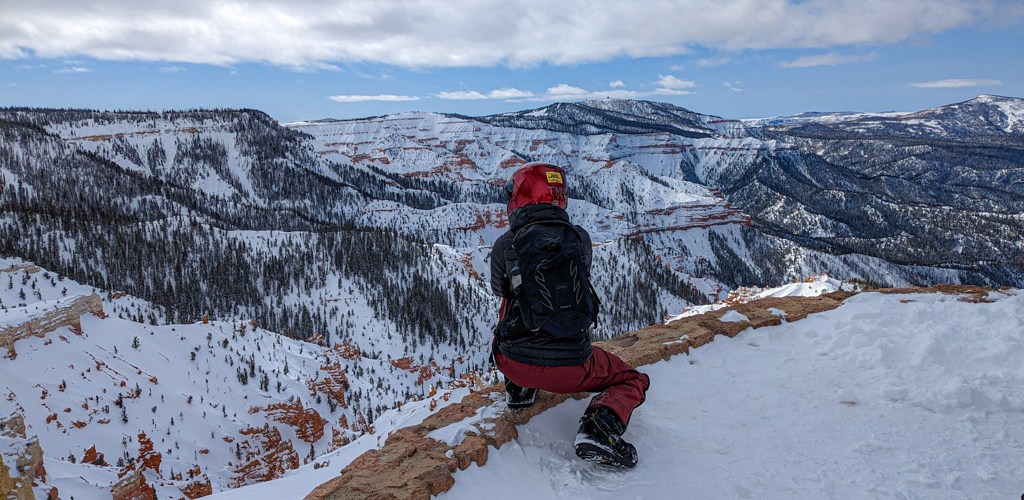 2. Spark Creativity at the Southern Utah Museum of Art
It's no secret that the stunning landscapes of southern Utah are a favorite for artists. The vistas and canyons of Zion National Park, the sweeping desert views, and the intricate formations of Cedar Breaks National Monument have all found their way onto canvas, print, or digital art. And with good reason. 
Find inspiration among the views while staying warm with a visit to the Southern Utah Museum of Art before heading out to discover the landscapes on your own. This state-of-the-art museum on the campus of Southern Utah University features the artwork of regional artists known for their landscapes, as well as emerging and distinguished artists from around the country. The robust collection from local artist Jimmie F. Jones perfectly showcases the natural beauty around us.
A short walk from the Southern Utah Museum of Art, visitors can find gorgeous artwork and pieces at Artisans Gallery.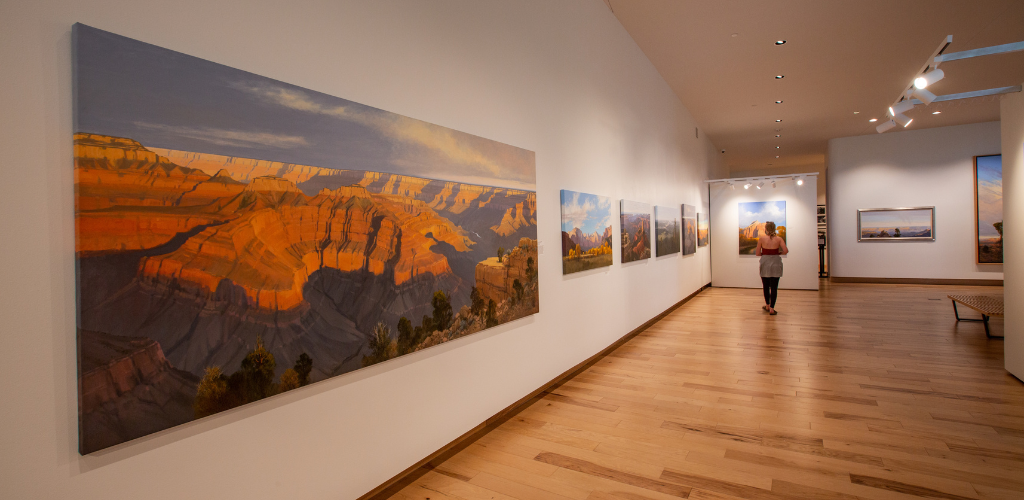 3. Snowmobile Tour Through Dixie National Forest
The landscapes of Dixie National Forest are gorgeous any time of year with towering pines, vibrant aspen trees, and red rock formations peaking through the forest. Blanketed in the snow with more falling from the pines, it's a sight right out of a holiday card as you glide through the forest on a guided snowmobile tour. The team at Thunder Mountain Motorsports in Brian Head are capable and a blast to spend the day with as they lead you through gorgeous backcountry terrain to even better views. 
You'll find a unique view looking into Cedar Breaks National Monument at the High Mountain Viewpoint from across a forested valley. Then you can stand at the rim of a natural redrock amphitheater in Cedar Breaks National Monument after a bit more riding through the forest. 
Learn more and plan ahead for your trip with Thunder Mountain using the link here.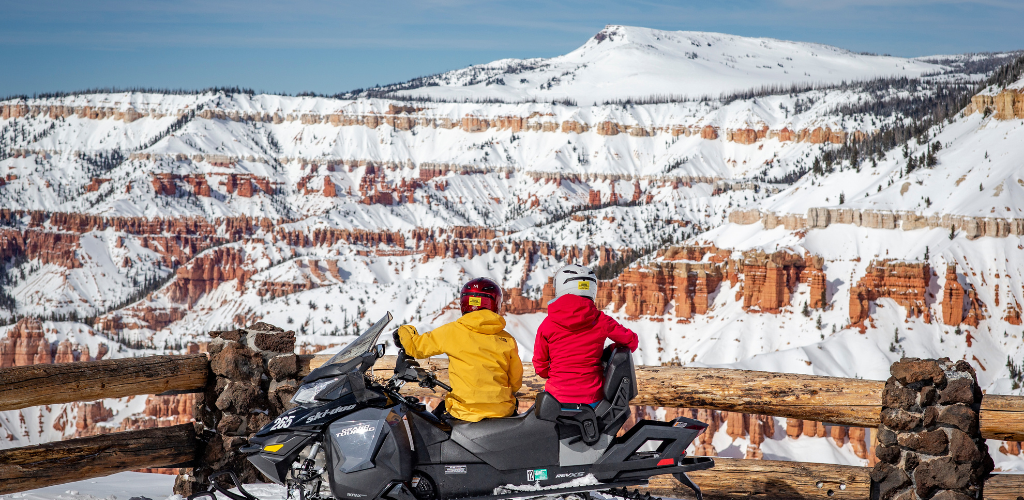 4. Hike in Kolob Canyons, North Zion National Park
Less than a half-hour drive from Cedar City, the north side of Zion National Park, Kolob Canyons, is an easy-to-find must-see destination. The five-mile scenic drive along the Kolob Canyons Road allows visitors to view the crimson canyons and gain access to various trails and scenic viewpoints. If you need an extra dose of adventure, plan for a hike along the Taylor Creek (Middle Fork) Trail. The trail follows the middle fork of the creek and winds past two homestead cabins, ending in a Double Arch Alcove. 
Things to Know: Kolob Canyons requires a National Park Pass or the purchase of a Zion National Park day-use entrance fee. #planahead and bring proper layers and footwear as the trails are normally in the shade and will likely be icy/snowpacked. Check road conditions ahead of time as well, as rockslides have been known to close the scenic drive.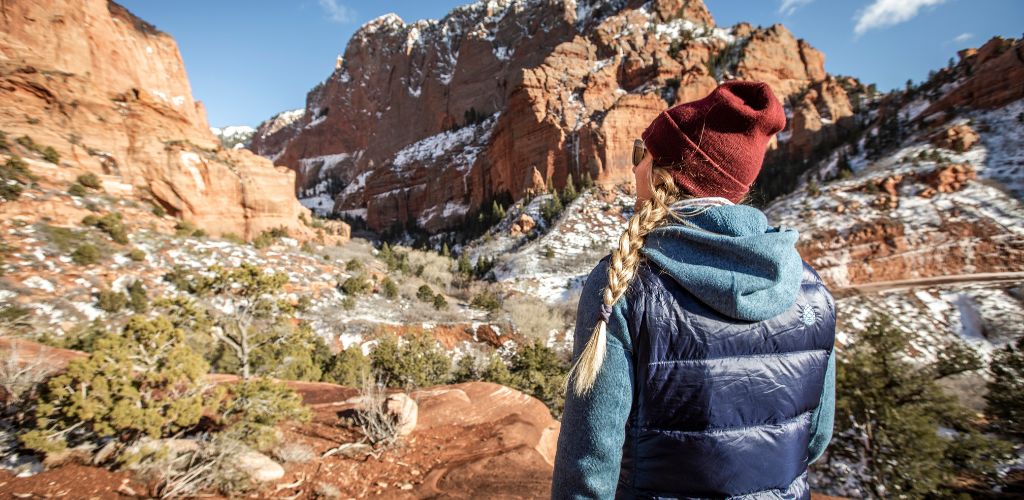 5. Winter Stargazing in Three Peaks Recreation Area
Only ten miles west of Cedar City, Three Peaks Recreation Area is a popular outdoor recreation space near town. With rolling hills and open high-desert landscapes, the scenery at Three Peaks is a unique area open for exploration. Mountain bike trails that are open for fat-tire biking (snow biking) squiggle through the landscape and two disc golf courses wind their way over and through the hills. 
Far enough away from the city and any light pollution, Three Peaks is a great spot for winter stargazing. It's a short drive from town without a drive through twisting canyon roads. Utah is home to some incredibly dark skies and Cedar City is no exception. Find dark sky resources and constellation guides using the link included here.